Wild & The Moon Concept Vegan
Wild & The Moon is a lifestyle movement created by a tribe of food lovers, chefs, nutritionists and naturopaths who believe that food should be Good for you, Good for the Planet & Delicious.
Through food we align with the rhythm of nature. This is slow food set to an urban beat.
Our Wild Tribe is striving to bring the urban community
Wild, local, seasonal, organic & ethically sourced ingredients whenever possible, promoting biodiversity.
Using traditional technics to protect the vitality and potency of our ingredients and offer raw food with unadulterated taste and bioactive elements.
Goodness from Mother Earth with completely plant-based, hormone-free and cruelty-free products.
Unleash Nature's healing power and deliver it to the urban crowd. Feeding the soul, bringing smiles and powerful plant alchemy.
We offer a delicious selection of cold-pressed juices, nutmylks, smoothies, salads, soups, desserts, super bowls and snacks to provide a healthy alternative to the urban crowd.
Wild & The Moon's products are homemade, made out of wild, organic, local, ethically sourced and pure ingredients, using vegetables, fruits, herbs, roots, nuts, seeds and superfoods.
No refined sugars, no additives or chemicals, no GMOs, no gluten, no dairy and we like to serve it that way, pure and intact.
Our recipes are inspired by the seasons, ingredients we believe in, travels we've been on and meals we share with friends and family.
We have taken flavors and ingredients from our memories and travels and combined them with herbalism and naturopathy to create a new alchemy, a new nutrition bursting with vital energy.
All our preparation methods ensure our food is as close to its original state as possible, with his natural healing force intact.
These techniques may involve soaking of grains, seeds and nuts to remove toxic anti-nutrients and revitalise or pre-germinate to enhance benefits of essential elements. Fermentation to elevate the nutrient count and improved digestion and assimilation.
Low-temperature dehydration to preserve essential enzymes and antioxidants. Cold-pressed to preserve live nutrients and enzymes your body needs.
You will experience a great variety of benefits including a feeling of lightness, clearer skin, alertness and enhanced spirit.
And always…
100% PLANT-BASED・LOCAL & ORGANIC・HOMEMADE・GLUTEN-FREE・NO ADDITIVES・COLD-PRESSED・NO HPP
Our recipes have been designed by raw vegan experts, chefs, nutritionists and food lovers. To give you the best Nature can offer, we are only using high quality products seasonally harvested by local farmers. Besides promoting healthy agriculture and biodiversity, we are also striving for a sustainable and healthy agriculture as well as the Planet's biodiversity. Our goal is to reach a zero waste policy and recycle everything as much as we can. The fibre-rich pulps from our juices and nutmylks are revitalized into light, nutrient dense raw crackers. NO PLASTIC! We use a 100% biodegradable packaging from the label and its glue. Our vegetal plastic is made from corn starch and sugar cane by a process that requires little energy and has low environmental impact.
We are food lovers before anything and there's absolutely no way we would compromise regarding flavors! The powerful plant alchemy of our recipes does not only deliver high doses of vital energy to your body but will re-ignite your taste buds too!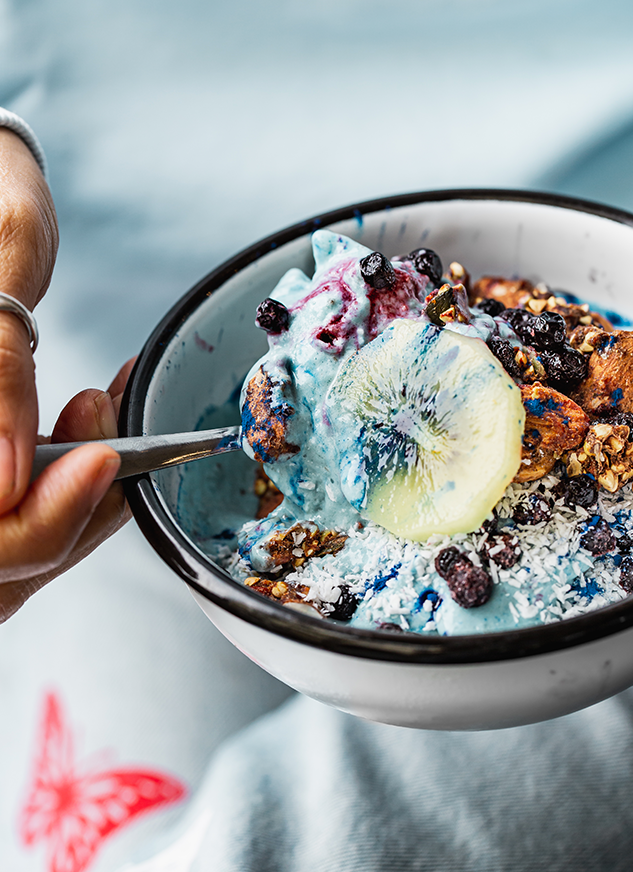 1.3 BILLION *
TONS OF FOOD ARE THROWN INTO THE TRASH OR LOST THROUGHOUT THE WORLD
*Over one year
This figure represents a third of total food production. This is an intolerable observation.
As a team, lovers of healthy and tasty food, members of a Wild Tribe, we are convinced that it is our duty to make the world a fairer, healthier and fairer place. That our mission is above all to educate the community, and we firmly believe we have the power to change the world, meal by meal, because the only thing that is better than food that does good is food that does good.
We prefer to have empty refrigerators at the end of the day rather than throw away 20 salads, by working with concepts like Food Karma who collects our unsold items every day to resell them at a lower price, in surprise baskets, after closing.
Emmanuelle is a true Parisian. So when it comes to food, design or fashion, she knows what's up. Over the past decade, this cosmopolite Frenchy has built a reputation as a global tastemaker in Paris, New York and Dubai. Curator, director and co-founder of Comptoir 102 in Dubai, a favourite of international travel guides and fashion magazines, the lifestyle concept store has quickly established itself as one of the best in the city.
Winner of the Harper's Bazaar Design Award of the best furniture shop of the region and the What's On award of the best Healthy Restaurant in Dubai, Comptoir 102 has become a reference for healthy eating and a hidden treasure for discerning shoppers.
Realising the strong potential of healthy food concepts in the local market, she's decided to launch Wild & The Moon, pushing a little further with a chain of healthy grab and go.
She's also funny and rock n roll! She parties hard and personally tried and tested many different recipes of hangover cure juices before approving one. That's her secret to looking so fresh. She's the creative brain behind the brand!
Hervé is a finance Jedi and a pretty decent Thai boxer too.
Former partner at Rothschild Investment Bank, he has developed his expertise in France, the UK, USA and UAE, where he was the head of this region, based in Dubai. A cosmopolite carreer that allowed him to build a significant experience in the hospitality, leisure and consumer goods sectors with a focus on hotels and restaurants.
While living in New-York, his interest in raw and vegan food grew on him, hand in hand with his sports addiction. Now a passionate advocate, Hervé strongly believes that increased knowledge and education around plant-based food, fitness and healthy living has the power to positively change our society.
Receive our latest Wild news & offers